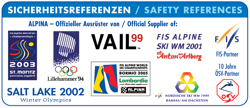 NEW POLEPOSITION NEW

ALPINE SKI WM BORMIO 2005 FlexMetalNet
Alpina Online Catalog
Welcome to the interactive catalog provided by Alpina. Feel free to browse our catalogs for Safety for skiruns, Sportnets, Motorsport, Roadairbag, Event or Camouflage.If you just want to request information, go to the contact form.
Standard Terms and Conditions.
By Professionals - For Professionals
In the high-speed sports world, profesional safety-systems are now absolutely imperative. APLINA has just the right solution for every requirement, tailor-made to perfectly fit the needs. Whether for Olymic runs, World Championship pistes, World Cup runs, FIM Motorbike WC or FIA Formula 1 GPs - in all of these fields ALPINA is the official supplier of safety-equipment.
The ALPINA team with its World Championship experience is made up of officially recognized alpine experts, coaches and structural engineers. We are happy to advice organizers of high-speed events and any interested parties on all aspects of piste and track safety. All ALPINA Safety-material is approved and verified by the CSI-Test-Institute/Milano. (Official F.I.A. & F.I.M. Test-Institute.)